Among the many health conditions that can place obstacles between you and a happy, productive life, cataracts serve as one of the most literal examples. These cloudy formations in the lenses of your eyes block incoming light and can eventually lead to blindness. Thankfully, our Yakima, WA, optometrist at Apple Valley Eye Center can help you overcome this common eye issue.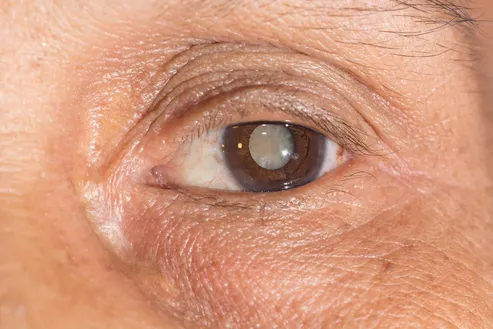 What Are Cataracts?
The lenses of your eyes normally look completely transparent, allowing light to pass freely into the eye for the focusing and processing of visual images. However, even this transparent tissue contains proteins spaced at sufficient intervals to let the light enter. When these proteins start to clump together into opaque, cloudy white masses, you have cataracts.
Cataracts can develop toward the front of the lens, in the rear of the lens, or from the outer rim of the lens inward in a radial pattern. Most cataracts occur as a natural consequence of age, after many years of UV exposure. However, steroid use, heavy alcohol consumption, smoking, diabetes, and acute UV exposure from sun lamps can hasten their formation.
Cataract Symptoms
Early-stage cataract symptoms may prove all but unnoticeable. As they worsen, you may experience blurry vision, light sensitivity, trouble driving or reading in dim light, and changes in the way you perceive colors. Bright light sources may display strange halo patterns. If you let your cataracts go unaddressed, you might eventually go completely blind.
Treatment and Management at Apple Valley Eye Center
Cataract patients can optimize their eyesight through proper treatment and management of the disorder. Because cataracts usually take so long to develop, your optometrist can often compensate for early-stage vision changes simply by adjusting your corrective vision prescription, fitting you with filtered anti-glare eyewear, and/or suggesting low vision aids for reading.
If your cataracts reach the point where they no longer respond to conservative treatment, your optometrist will refer you to an ophthalmologist for lens replacement surgery. This procedure enjoys a high success rate while taking only a few minutes per eye as an outpatient surgery. After you receive sedation and a local anesthetic, the surgeon will use specialized instruments to break up and extract the clouded lens, replacing it with a clear, synthetic one. You can even get replacement lenses that correct for refractive errors such as nearsightedness or presbyopia.
Contact Our Yakima, WA, Optometrist
Don't let cataracts stand between you and the life you want to live. Contact our Yakima, WA, optometrist at Apple Valley Eye Center for a comprehensive eye exam to catch this condition early and pursue your management and treatment options.